On a particularly beautiful day playing golf at Osprey Point I birdied the first hole and parred the next four for a great start of a golf round.
Osprey Point is the Palm Beach County Muni Course built a few years back with much fanfare and criticism. It is in western Boca Raton. Just a couple of miles east of it is the city's Municipal golf course. Many wondered why we need another golf course so close, taxpayer money, golf is on the decline, blah blah blah. However the truth is that golf is a game of haves and have nots. The best courses are usually super private courses where wealthy people pay lots of money to socialize in grand clubhouses and play golf and tennis, They raise their kids in that environment where the kids get the best training and usually become avid golfers just like their parents. The courses are pristine and well taken care of. However in South Florida where there are more courses than most other states the "best" courses can be counted on one hand. Otherwise the Country Club courses for the most part in So. Fla are ok not spectacular but nice.
The Muni is usually where the avid golfer who can't or doesn't want to afford private country club golf plays. Golfers here include old people, young people middle class blue collar, good golfers, bad golfers and everything in between. They play for the love of the game, to have matches with friends, grandpas teach grandsons, and so on and so on. Munis are usually run down and not the highest levels of designs. Cities and counties don't pour the money into them that private courses do. It doesn't matter which type of golfer you are or where you came from the skill level is diverse on any course for the most part, but to generalize the average "hacker" is usually at the local muni where rates are far, far less than the private "exclusive" courses. In the U.S. there are some famous munis though where design and history have elevated the courses to the highest regard. Bethpage in Long Island, Torrey Pines in California and others are known to the golfers who seek them out. Osprey Point in Boca Raton is unusual in the Muni circuit. It is well maintained, a great design, reasonable rates and an experience like you get when playing the game overseas where golf is played "along the ground" unlike here in America where our courses are designed to play target golf. I love the overseas way of playing.
I became aware at the 8th hole, after the second birdie in a row, (I was 4 under already), that not only was I on fire on a course I loved, but that I was in familiar territory – another chance at a great round.  I was not going to freak out this time and blow the opportunity. Keep my emotions in check and I can do this I thought. I had many goals when I began playing golf. At first I wanted to play well enough to not embarrass myself, then to be a great competitor and welcome team-mate in a match. Then I became obsessed with perfecting the game (a feat not possible). I had been playing for several years now and while reaching the pinnacle of my skills, I was beginning to slip and wondered what was left to achieve in golf for me.
As a young kid I remember going to the range with my Dad and watched him hit balls. I had no idea at the time but he was on a mission. His determination was infectious. I wanted to want something so bad that I was driven that hard. I learned from my Dad as he got as good as he could so he could play with the successful people he was meeting while moving up in his social class. Dad did accomplish that goal and became a country club golfer and a good one, and he followed his obsession playing courses all over the world as golf lovers will do chasing the dream of playing the best courses and shooting the best rounds you can shoot. Not all golfers do the, traveling to all the best courses, thing, but the ones who do are a select club and are like a brotherhood whether Muni golfer of CC Golfer. We all can meet at a golf destination share stories and pints and have a wonderful time and go back home to our different lives after. Unfortunately for me, as Dad was moving up my parents got divorced and after custody battles etc. my brother and I would live with our grandparents on my Moms side in upstate NY and the country club life with all its trappings would be something we would only be visitors to every so often – never an insider… Golf would not be my obsession yet. Dad and I would become strangers for a long time and differences over Vietnam , music, drugs (it was the sixties) , college and the generation gap took its toll on our relationship for many years. I was an idiot, now that I look back. Luckily time heals all wounds and we have had a great relationship for many years now. It was golf that first brought us back together. Our golf lives and interests are a strong bond for us.  It also brought him a rewarding relationship with his Florida grandchildren and a second chance…
The other day I went to Osprey after a long hiatus just to hit some balls and try to figure out if I am still a golfer. After my skills eroded a little I realized I couldn't be out pursuing my new rebirth as a live music photographer where I would be out until 1 am and try to join my friends for golf at 7am. That resulted in me losing money on the golf course and becoming an 80s shooter. I was not happy and started backing off a little. Then I started getting much worse and ran out of gas towards the end of rounds and eventually found out I had cancer. I battled the tough fight and am here to tell this story so I guess I did ok. After almost two years of horrible golf and then no golf I attempted a comeback. It is slow going. I never thought I would play again to tell you the truth. I lost 30 pounds and am like a beginner again. I get frustrated easily. My friends convinced me to return to Scotland to play all my favorite courses again with them to try to get the old Jay back. As I was in treatment and at my worst they kept texting me from Scotland on a trip I was supposed to go on, and they kept me involved and kept pushing me to look forward to recovering and join them the very next year on the same trip. They wanted me to have hope and something we all loved to look forward to and to not give up. They are good friends all of them. When we returned from a wonderful trip to my favorite place in the world I was determined to "find my game" again.
That lead me to a quiet morning back at Osprey where I just went to hit balls like when I used to watch my Dad try to get better. I was going to look for that Jay, and work hard. The guys in the shop when I was paying did not know me and asked if I had ever played here before, and started trying to explain how great the course is. I stopped them and to their surprise I told them I have played all over the world but this was my favorite course. I may have been exaggerating a bit… when I got the range balls the cart guy drove me out the the practice area. He told me what a great secret the course is, that it is a fantastic course that now people are hearing about. Travel agents are pushing tourists to play here instead of the more expensive alternatives while in town. I said that was sad as now it would be harder to get a tee time and the place would become too crowded….everyone is finding out the secret of Boca….I remembered back to that day again, before I was sick, ..that day when it was so good to me…
On the 8th hole a par three I made a spectacular "up and down" to make a par and felt that all my experience since I was little kid playing sports and relishing "the big moment" was in play today. For golfers there is a moment when a special round is happening that you have to move past effortlessly or you will not make the goal. I had accomplished all I wanted in golf up to this point.
I played matches for thousands of dollars on the line, or had a putt to win our Ryder cup championships where it was all on the line, on one putt. I lived for the big moments. This means there were many failures as well. Golf is like life in that way. It teaches you something every time out. I managed to play the courses all real golfers only hope to get to, St Andrews the home of Golf, Pebble Beach our most famous "public course" in the US and many others. I managed to become a single digit golfer and could play with anyone. I became a good business golfer. At one of my jobs as Head Trader I was told that they heard I was a golfer and my main job was to become golf buddies with the biggest producing broker at the firm thereby creating a good relationship between management trading and the brokers. I was not a good golfer yet and I gave it a try. Bruce and I became great friends and played every week for many years along with likeminded other friend. Bruce and Tim, another of the first of my real golf buddies taught me the lesson that golf is a gambling game not just a sport of hitting a little ball into a hole. This I understood early on and I learned how to play under real pressure – paycheck pressure…. That is how you get cool under pressure and don't choke…at least sometime when you keep it under control. We traveled for golf as much as possible played charity events and started joining golf clubs where we played as often as possible. We bet on everything… and so on…my brother in law was muni golfer growing up but was now successful and cc golfer and Don and I became fast friends once I became obsessed. He taught me the ins and outs of cc life and cc golf. And he was a good golfer especially when there was money on the line. I learned a lot and had loads of fun with all my golf buddies over many years…I moved easily between country club, private course and muni golf and had friends at all of them. It was hard to find a MUNI though that I would love to play over and over until Osprey…
That day on the 9rth hole I made a Birdie and knew I had just shot 32 on the front side. That is 4 under! Many times a golfer will shoot real low on the front and high on the back or vice versa thus derailing "the round" where they shoot the best one ever. It is especially hard when you are trying to shoot below par (72) something very few golfers ever do except pros and collegiate or high level amateur golfers.
As I became more interested in photography , when I played golf and didn't play well, I would tell my buddies that I have two other goals I have not accomplished and that when I accomplish them I would throw my clubs in the nearest lake and be done with golf. Probably not a very serious threat …I had never had a hole in one – my Dad has had 6 – I guess he got the family allotment. And I have never broken par (shot lower than 72). I have been close many times.
The first time was with my friend Marc and his son Cliff. We were on the 18th hole at Polo Trace a tough finishing hole. That was when Cliff reminded me that if I par this hole I will shoot 71 OMG! Break the Holy Grail in golf, an amateur shooting lower than par. It's this and the rare hole in one that are the golf memories you will carry to your grave.
Golfers are superstitious and this is the baseball mush… in baseball if the pitcher is pitching what looks like may be a no hitter, you don't know right away. It develops over a few innings. When it starts to become apparent that it could happen, some things happen. If you have ever watched baseball when this rare feat is developing the first thing you notice is the pitcher stops talking to other players, and the players avoid him as well. No one wants to jinx it or be the mush. They keep their distance. Special moments can crash in an instant, if the guy tucks his shirt in if it was half out, or spits out the gum he was chewing because he was talking to the third baseman about some nonsense. Or in golf like when someone says hey did you know you are about to do something really rare and all you have to do is not screw up this one hole! NOooooo !
I promptly triple bogeyed the hole and finished 2 over for a 74, great score for mortals, but not a milestone. There were other times. Sometimes it it's the early talk of a record round that does you in like at the 9th hole when you are 4 under… or sometimes you just do it to yourself by playing too safe(way to go Donny from Tin Cup). Or you are reckless when you acknowledge the possibility to yourself that this is the day and you take crazy chances.
On this day at the best kept secret in golf Osprey Point in West Boca, a place that reminds of why I love playing in Scotland and Ireland, which is probably why I was so in the zone and comfortable. I fully acknowledged to myself that very early I was firing on all cylinders and was 4 under. If there ever was a day this is the one. At this point I had been playing for a long time and felt I was on the down side of my best playing days. But the golf Gods have a way of giving you these chances when you least expect them.
My friend Dale knew the baseball analogy and did not bring it up outright until I did. It was on the 11th hole, after playing it safe on 10 trying to keep the round stable. I played it safe again and hit three wood again, but hit it into the high rough. I then tried a miraculous shot out and hit it into more shit. Disaster! This is where it usually ends and it becomes just another day on the golf course. I almost lost my composure but I said to Dale " you know I tried playing it safe and messed up and then made it worse by trying to be a hero" it was my first bogey and I am going to just play my normal game whatever happens will happen. The guy's still left me alone once they heard where I stood and saw the look in my eyes. There was little conversations except for the occasional nice shot or fore! Or at least that's how I remember it. Being in the zone you tend to block out stuff.
At the pivotal 17th hole I was sitting three under par and lost my shot into the deep rough right. If I lost the ball it was going to be, again, just another day where I almost did it blah blah. But I found it. This time I did not try to be a hero I just popped it out, I then hit my next shot up to the front of the green. I was now faced with a 40 foot putt for a bogey and figured I better two-putt it. That would be a double bogey and I would still have a chance to break par. But if I three putt it is all over. I stroked the putt trying to just get it close and what do you know, it went in! A bogey that felt like a hole in one! Holy crap, I was now sitting 2 under and still had a chance on the last hole to keep my act together and finally do it. Shoot under 72.
On the way to the 18th hole, a par 5 I was pumped, and I said to Dale "I am 2 under here and if I "Donny it" (play it safe) I may be able to par this hole and finally break par and shoot 70. But I am not built like that, Dale. I am going to hit the shit out of this drive and try to break 70" a crazy thought that I never dreamed I would do, let alone say it to someone on the last hole. This was crazy. I was now obsessed with a different milestone, to break 70 and shoot 69. Me, a mere mortal shooting in the 60's like the pros.
I did just what I said I was going to do as if I was possessed and hit a monster drive right down the middle. I felt like I was in a dream. I didn't know what anyone else was doing. My senses were never so alive. I felt the wind and it calmed me, I smelled the grass and it smelled like Scotland. I was at peace.
The par 5 second shot was one more chance to be conservative. Hit it to 100 yards out and try to hit the green with the next shot and have besting 69 totally depend on a putt. I thought about the Masters and the guys who lay up and then go on to win. Remember them? I thought not. We remember the guys who went for it and pulled it off in spectacular fashion or the ones who failed but gave it their all. How satisfying and spectacular it would be to go for it.
Lay up? No way Dale! I am hitting this 5 wood to the green and I will birdie this hole, maybe even Eagle it. I smacked it pure and it was flying true to the green but a gust of wind held it up and it came up short bounding down the hill from the elevated green. I didn't spend a second disappointed. Not to worry I walked briskly to the ball and without much thinking just popped it up onto the green. I was now about 12 feet from the hole and glory. So it would depend on a putt after all.
I needed to gather myself and concentrate. I had to make this putt. I could see my Dad's face as he concentrated so hard at the range when I was 7. He looked like he hit every shot like it could be his last. I had the same goose bumps I had when I threw a no hitter in little league baseball on the last pitch. I concentrated hard, like my Dad, on the last pitch and cheers erupted "strike"…
Dale had a putt on the same line as mine and was putting first. Normally we would watch the putt, unless it was a competition, so as to get an idea of the break etc. Millions do it but purists would never. I looked away. I didn't want to look. I needed to make this putt all on my own. The green was elevated and was alongside a lake. I could see the ripples in the water as the breeze kept it moving. I heard the Dales putt go in the hole. I turned and studied my putt. Dale said he couldn't believe I didn't watch. You could hear a pin drop.
I confidently rolled the putt straight in for a 69 and broke not only par but broke 70! I thought my best days of golf were over before that day. But when opportunity presented itself on this day I rose to the occasion and beat my personal best, and shot a score not many golfers can say they have ever done. This was my day.
After last year and my recovery from cancer, golf has been a struggle. My best days are definitely in the past. But no one ever said it was an easy game. Like life there are ups and downs in your golf game. I think breaking par again may be a longshot these days. But hey I have done it already and in grand style. I have good golf buddies and I made it back to St Andrews after not knowing if I could ever make it out of bed again. I am finding my golf game again a little at a time and Osprey Point has been on my mind!
So I came back to the best course in the Southeast, at least to me. The best kept secret in golf, the best non secret in Boca, can I find some magic again. I found out how everyone is hearing about the course and that it is no longer a secret. I don't care, I have a feeling that if I keep going out there, that maybe I will find the other golf goal that still eludes me. If I don't get in my own way and just let it happen. Maybe a Hole in One is in the cards? Where else would it happen? OSPREY POINT.
But shh please don't tell anyone else about it!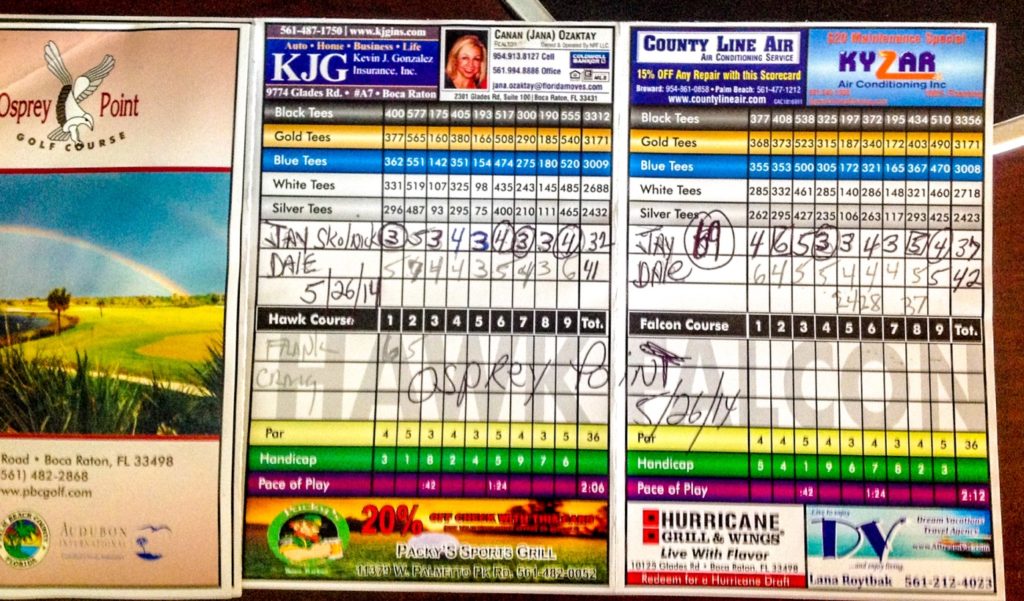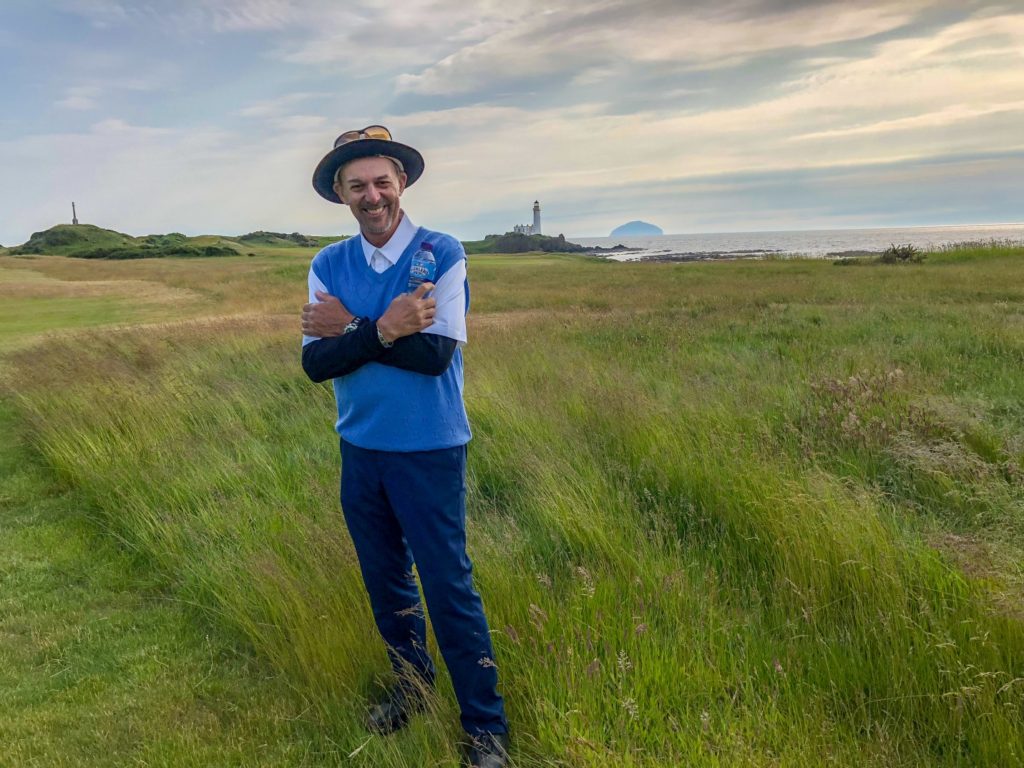 Share, Follow and Like this Page: