As I contemplate returning to the home of golf in 2018, after having to cancel in 2017. I am looking forward to 2018
The other day I changed my Facebook personal profile to a picture from my first visit to St. Andrews and the home of golf, The Old Course. I was on a planned trip to Ireland and 4 of us broke off to "explore Northern Ireland", which would be a recurring theme for years to come on any golf trip I organized. After the foray into Northern Ireland I realized I would be very close to Scotland and a two day excursion would allow me to check off what every real golfer has on their bucket list – St. Andrews. One of the guys, Kevin, agreed to join me and we spent a magical two days in Scotland playing the Old Course and what would become my favorite course, North Berwick, as our trip ender. We stayed at the coolest hotel at St. Andrews, the Rusacks, where I got to know the manager, and for years to come it was our go-to place for me and the rest of my golf traveling bunch.
Overlooking the 18th many famous golfers, dignitaries, and people from all over have stayed here watching the golfers from the dining room windows. They would later make the same walk across the green from the back door to start their round. The hotel is typical of the hotels in the area with small hallways, barely wide enough to wheel your luggage and golf travel bag to your room. But you smell the majesty of the place. The great Bobby Jones checked in here. Jack walked down this hall. Tiger had to leave the crowd outside so he could walk to his room. Tom Watson held court in the breakfast room overlooking the 18th, number one, and the Royal and Ancient Golf Club. Old Tom Morris and Young Tom tended to the visitors staying here and then beat them at the game that they ruled in the early days of Golf as the legend of the Old Course was made.
Kevin and I were high as could be on the first tee as we met our caddies and the crowd of people who normally gather and walk around this muni every day. Amazingly it becomes a park – no golf- only picnics and kids and dogs, etc.- how cool – on Sundays. They watched us.
The first tee experience is amazing. First you have your breakfast as the sun comes up looking at the greenskeeper finish of his "tweaking" right there on 18 directly adjacent to number 1. Early golfers start to mingle near the starter shack to meet their caddies and stretch and get ready for their turn. The nerves start to grab you as you stare down the opening hole, a par 4 with water in front of the green, requiring a simple tee shot with a hybrid, certainly not a driver. What could be easier? Then the starter says "play away sir" and you fumble and stumble to gather all your focus, lest you will completely miss the ball!
"Goouud shauughht Laaaad" as you look around at the other nervous golfers coming after you. Knowing nods hit you as you walk past them " good one mate" and your off. It is a blur of joy, fear and exhilaration. Your senses are heightened, YOU are playing THE OLD COURSE!
It is hard to remember so vividly an opener, Pebble Beach comes to mind as similar, but this is the real deal. From there on it is a jumble of holes, good shots, bad luck, but walking in a dream describes it best. The caddies size you up pretty quickly as they see all types. When they believe they have actual golfers with them they joke and try their hardest to get you to enjoy this treasured walk, and offer their best advice. Impossible to understand the brogue for most people, there is a connection to the course, you and the caddie may build that is mystifying on a good day. And on subsequent trips I have come to understand their essential role.
Miraculously both of us played well and I shot 82- the most memorable round of my life. The round could be summed up by the 17th, the "Road Hole". On the tee box golfers are told which letter in the sign on the adjacent Old Course hotel to aim for. This is a blind shot that tests a golfer's resolve for sure. It's a great example of how pulling off a shot you have watched the pros do for years can be so rewarding for an amateur. No other sport gives you that chance. We both hit tee shots great and the difficult par four was giving us a chance. From here on I can't remember what Kevin did. I hit my second shot just outside the famous green side "devil" road hole bunker. I had seen this situation many times on TV. This is where Tom Watson and others would go right to avoid this impossible bunker, only to end up against the road wall and have to try hitting backwards against the wall to ricochet up to the green with usually disastrous results. I was glad I wasn't there where Kevin was. I now had a decision and memories of lost British opens swept through my brain- David Duval, left one or two in the bunker then hit out backwards as his caddie first suggested. Then he took an 8 and his tournament was over. There were many other horror stories of guys with the shot I was contemplating. I have always been a good "flop shotter" the Mickelson specialty. But under pressure that is another story. My caddie begged me to putt the ball around the bunker, and then putt up to the green, and that that would give me a chance to at least make a bogey. A chance to make a bogey? Really? "Nice safe shot Donnie" went through my mind from the movie Tin Cup. If I tried to hit over the bunker and screwed up, I could hit the ball into the parking lot, or worse yet, hit it right into the bunker and join all those memories of those who failed at the same shot. I looked at Kevin and smiled, he knew I was not built to make the "safe shot". I gave the putter back to my caddie, and asked for my lob wedge. "I intend to make par my friend." He shook his head and mumbled something undiscernible in his thick, Scottish brogue and reluctantly handed me the well- worn tool. I looked up into the sky, looked around the course, and took some deep breaths. The road around the course meanders through town and people walk it constantly. They appreciate the golfers trying to tame the Old Course and often will stop to watch shots and applaud good ones or even good attempts that go bad. It is one of the fantastic things that make playing St. Andrew such a rewarding experience. People were walking by and I saw them pointing and stopping to watch what I was about to do. They were directly across the green from me and surely a "skull" shot and I could actually kill one of them. I set up and as I sometimes am accustomed to do (unlike the pros) I didn't waste any time and hit the shot. Miraculously, Mickelson would have been proud, the ball sailed high over the bunker and landed softly 4 feet from the hole. My caddie said "well done sir!" The people clapped as I walked to the green to mark my ball for my birdie attempt. I tipped my hat like I was somebody. They continued to follow us as we played 18 as well.
I would love to say that I made that putt but I didn't. However, that's the beauty of golf- it didn't matter. All that mattered was the test I put on myself as so many have before, and this time I prevailed. For one magical moment, I was as good as any pro who walked the Old Course, from old Tom Morris to present day.
And that's what this picture means to me. More thoughts on golf to come….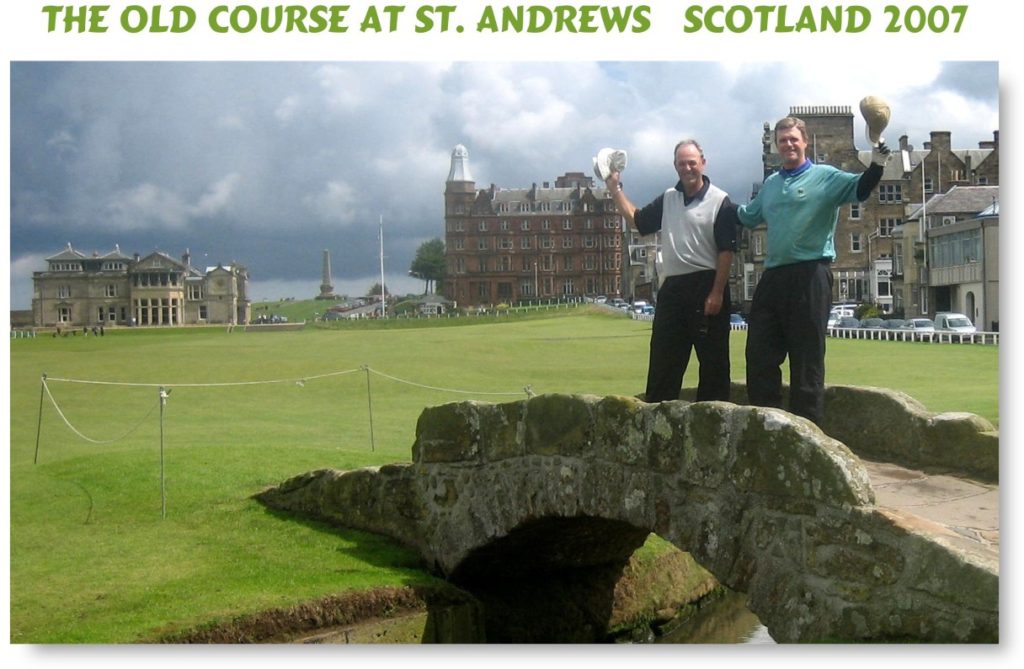 Share, Follow and Like this Page: