Adventures of Away We Golf and That time when we played Lahinch in Ireland
Lahinch, the name means nothing to most non golfers, and only a handful of golfers would even know it. Designed by the great Old Tom Morris and laid out by horse and plow, it was also tweaked by Alastair Mackenzie. That is reason enough for a visit for serious golf historians and lovers of the game.
Watching the Irish Open on TV this weekend brings back a flood of memories of the adventures I have had the pleasure of experiencing over some 20 plus years with my golf buddies exploring faraway lands with experiences that at times were dangerous, comical, stressful, funny, but especially the stuff of outstanding memories.
While some may be yawning at this point, and not understanding how writing about golf trips could possibly be entertaining or worthy of a good read, to them I say it is not about the actual golf necessarily, there will be other stories for golf
nuts and enthusiasts to be satisfied with good shots, low scores, and great competition. The series I call "That time when" is about adventure! The things that happen when you travel far distances at considerable expense with your buddies to explore new lands in new places where you wouldn't go on your family vacation or by yourself per se. You do it because of the insane collective desire to do it together through golf.
There are muni golfers who love to play weekly at home on public golf courses, and then there are the country club golfers who socialize at the club, dine at the club, and golf at the club. Occasionally there is someone who organizes these groups to travel somewhere to play golf at other courses, even the famous ones at times. These trips are organized by someone in the group, someone at the club, or by a flyer one golfer receives and shares with his friends.
I became that guy. I later joined forces with a like-minded golfer with organizer tendencies, Marc, and together we became "Away We Golf". Our mission, at first, was to join forces to make bigger trips that our friends and colleagues could go on for organized competitions and the camaraderie. Then it was to expose our friends to some of the great golf destinations that we wouldn't necessarily go to if not for creating the event/adventure.
I have a crazy desire to take everything I do to insane levels of obsessiveness. In this I had to make the adventures bigger, bolder, and more memorable than any of our friends could possibly do without us, and Marc and I would take the adventures to new heights year after year after year.
Our adventures were full of the stuff of sitcoms – the funny and memorable things that happen when various guys from all walks of life, different financial statuses, and different sports abilities, all put their planning into our hands and let go and travel with us. We have the rich guy who has to have the best room, the not so rich guy complaining about the cost of dinner ("everyone throw in 50 and we split it" – "why, I didn't have the lobster?"), the type A personalities telling us how to do everything, etc. etc. They all had to eventually let it go and experience it my way or be ostracized and out of the, what became coveted spots, on the Away We Golf trip roster. When a new trip was announced a year in advance the real lovers of the adventures sent their forms and money in right away so as not to lose a spot. "Jon we have a new destination we are going to next year, wait hold on, I just got a message on my phone," (phone message – A deposit of $2500 just hit your bank account) "Thanks for your deposit Jon, how did you do that so fast?
Where are we going? To Scotland Jon." "OK I'm in!" "Yes we know you're in we just got your deposit before we told you anything". Jon was always in first! It became known that Jon was in no matter what we conjured up and others soon followed his lead. You didn't want to be late with your deposit, see if you can beat Jon and be first next time!
Some of the guys made it 20 years plus, some brought their young kids who were aspiring golfers and we watched them grow and experience life lessons their fathers so rightly exposed them to by bringing them along. Others became lifelong friends or business associates, others became a subset: "the crazies" (which I led as my obsession grew and I needed more craziness to satisfy my urges- with like-minded guys emerging to join this elite force of golf adventurers). These are the guys who if I was Lewis, I would take with me to explore the west coast for the rest of our friends to follow our path through the Cumberland Gap.
So what inspires me to write today?
I am watching the Irish Open being played at Lahinch on the South West Coast of Ireland and they are showing views of the plot of land this golf course sits on near the famous Cliffs of Moher (think Harry Potter scenes of crazy cliffs along the ocean filmed there). Well the views are spectacular and remind me that this is not just golf, it's an adventure.
Back in the "pre real adventures" we explored the usual places golfers who do this go to, The Famous Pebble Beach, Historic Pinehurst, The Islands, and other new ones emerging such as Bandon Dunes along the coast in Oregon. It is now the best golf destination in the USA for the true links experience "golf as it was meant to be" is their motto, like in Scotland etc.
Mike Leary, a friend who organized trips for corporate clients and famous sports heroes like Joe Theisman and others, used to tell me how great "Links" golf is and how playing overseas at the "Home of Golf" in Scotland (serious history and serious golf) was awesome, and how Ireland was his favorite place (fun golf, fun people, towns with more pubs than people and great scenic courses along the ocean).
I watched as in the Tiger era the golfers would be shown on TV "warming up for British Open golf"- links golf- by playing fun rounds in the Southwest of Ireland. Then they would hop over to Scotland for the British. The theory was that they would acclimate themselves to the elements over there that are very different than the US. Cold summer weather, strong winds, and lots of rain at any given time are the norm. Rough golf courses with lots of tall grass and gorse along the fairways, so you had to be precise – hard fairways so your ball would roll for miles (they call overseas golf "playing the ball along the ground" while in the states we have well-manicured fairways lots of water and shots need to be played high in the air ("played in the air") to get over everything, well different than overseas. I felt a strong desire to play that kind of golf and see the historic places without being a typical tourist.
Mike asked me to fill in on a trip he organized and I got my first taste. Most golfers start their overseas (UK) golf by visiting Ireland (cheaper & more
lighthearted) and if they like it they then explore England and Scotland and play all the "trophy" courses where all the historic events have been played since golf began.
I and my crazies took that exploration of the UK and its great golf destinations to new heights, and our adventures and stories about those expeditions are great to swap with each other. These experiences, bringing our group on itineraries some would regret and never return, and some would flourish on, but one thing for sure all would never forget. I will get around to many recaps of just comical experiences on the series "That Time When…''
I fell in love with "links" golf right away and raved about it to Marc and prodded him until we finally planned our first trip over with all the guys. We sent a picture of our group at Tralee to Golf Magazine and they published it. The magazine sits in my collection now with many more reminders of adventures taken in the years since. We have been back to the UK many times.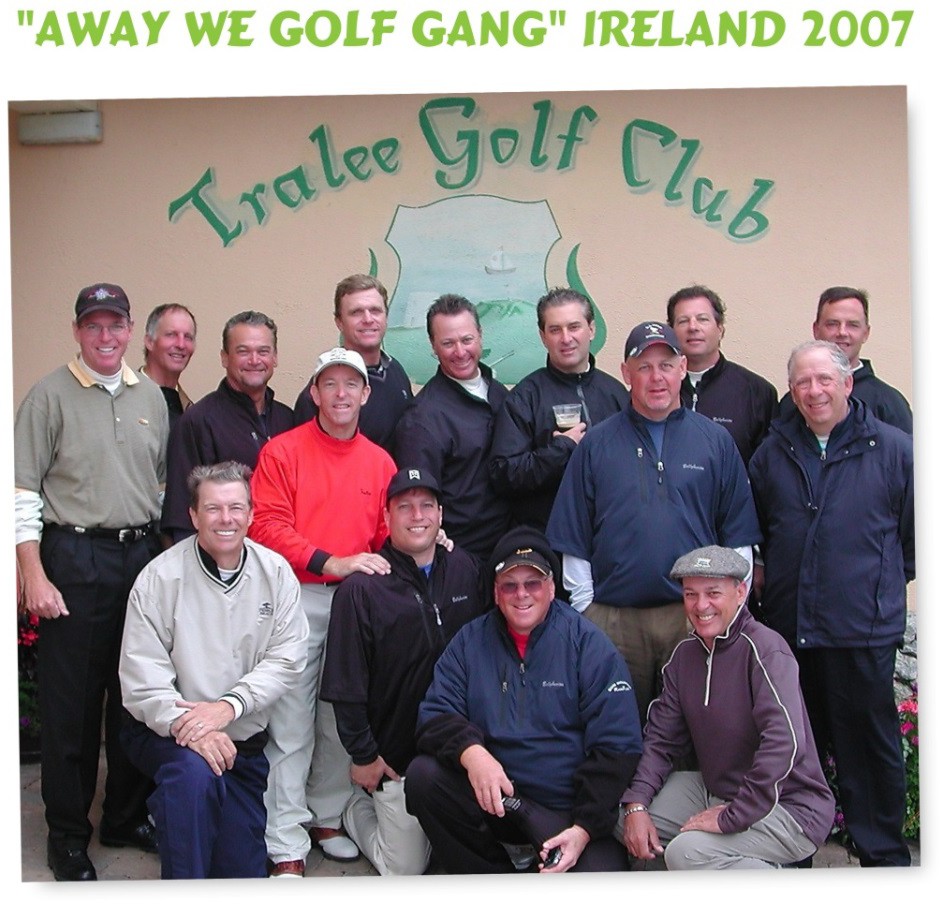 The Away We Golf Group in Golf Magazine
So …. Ireland
Our first trip over we played the typical Southwest Swing. This included experiencing the famous Ballybunion, Tralee and others. The outstanding drives by tour bus to the remote courses along the finger like pieces of land was mesmerizing, Long drives ( on the wrong side of the road) back and forth from hotel to course, on to the next and repeat and repeat. The drivers become your guide and the right one can make the trip so much more fun with the big comfortable bus (a must), narrow roads, sheep crossings stops and great banter to keep everyone engaged.
Hilda was our first and she absolutely made the trip enjoyable. Learned everyone's names right away, figured out the laggards, the blowhards, the ones away from home for the first time and made everyone happy. I sat up front with her and studied the roads and how she navigated that bus around winding hairpin turns ("hold on boooys"), playing chicken when cars came at us on roads so narrow someone had to make way ( "make way ya bastuurd 'tis my right!!").
All the time she was regaling us with history of the area and hole by hole descriptions of the courses we were about to play. She navigated treacherous cliffs and busy roundabouts (almost every intersection is a "roundabout" and they go the wrong way!). "Boys uur loo'kin the wrong way, yur in Ireland now! let's make suure ya's git home!" You have to know what you're doing over there when driving and look the right way (the opposite of here) even when walking in intersections. This education would prove crucial for later excursions for me and my "crazies".
"OK Bill you watch the hooks and you will shoot a g'ud ro'und t'day!' "Jay put the planning papuurs away and en'jooy y'usrelf tidaay!" "Dindin is at 8 guys so the bus leaves at 6 sharp back to the hotel. I'll meet ya's in the 18th hole pub for a few after the round and then we're off!" I learned a lot from that woman! She showed us where the best places to eat and drink were and gave us local insight and tips that proved valuable for many trips to come. Thanks Hilda.
This kind of golf travel, it's not for everybody. You walk these courses, there are no golf carts over there, you walk like the golfers of old and everyone does it, young or old, male or female. Many bring their dogs to help find wayward golf balls and for fun. It's like a bit of exercise everyone grows up doing. You play no matter what the weather and you move hotels often. Some are just not cut out for this kind of adventure and don't last long.
The walkers move along these pieces of earth smelling the sea air with no skyscrapers and there is a peacefulness that overtakes you. You soak it up and feel alive and you want more. You carry your own bag of clubs or you take a caddie to carry it which helps make the walk more enjoyable. The caddie is part of the fun of the whole experience and there are lots of great caddie stories. Across
the pond, you play a game that is older than most other organized sports with modern equipment but on the same grounds all the greats who ever lived have walked on. Tiger, Jack, Young Tom Morris, Old Tom Morris, Ben Hogan you name it. This either excites you or doesn't. But the history, the people and the towns and scenery, well, it just works for me!
For the true adventurer, it gets us every time. Let's face it, we are not climbing Mount Everest, mapping out the Amazon forests, or sailing to new worlds. But these adventures can feel like that as we walk these grounds.
Ireland and Scotland are very different places for tourists to visit but golfers can tell you the difference through their game easy. Scotland has more historic courses, and a seriousness about their golf, they let you visit and play their historic courses and love having you but could take it or leave it that you are there (or so it feels). In Ireland there are great and historic courses also but all the big championships were in Scotland and England on the "Royal Courses" (the subject of more of my stories). Except this year the British Open will be at Royal Portrush in Northern Ireland and Ireland finally gets elevated to the big stage once again.
We will be back to discuss this. Ireland is about fun golf, people on the streets and in pubs chatting with the tourist golfers about their games and laughing and singing together.
Food is a big difference as well. Ireland gets my vote as the better of the two. They have Irish Stew, Shepherd's Pie, Fish and Chips and the best Seafood Chowder.
They also have fine whiskey and of course the Guinness (and they love to cook everything in it). Scotland also has the fish and chips and of course the Scotch. However they lose me with the Haggis, the deep fried burgers, deep fried Mars bars, and the black pudding, which has nothing whatsoever to do with pudding at all. You can tell which country you're in by the smiles! For some reason there is an abundance of salmon and it's served with everything. There was cold salmon of all varieties for breakfast. "a side of salmon with your eggs sir?" "Sir I recommend the salmon bisque with the salmon burger for lunch." "ah for dinner then sir, why not the salmon steak?" "Sir after lunch please stop in the pro shop and buy a golf shirt in our wonderful new color"…………………………………………………………….. yes we did!
Then there's the music, the soundtrack if you will, to these journeys. The Irish music is festive with fiddles, flutes (tin whistles), the fife, Celtic harps and multiple musicians playing fun melodies. In Scotland you have the more somber sounds of the bagpipe. It can be fully experienced with only one player out in the garden at sunset to signal the sun going down (around 10 pm). I like them both and those sounds fill my head when I play over there and when I reminisce as well.
There is a subset of courses in the UK that we call "quirky". These are historic courses where many famous events and golf matches have been played. However,
they are courses where many American golfers don't get what makes them special and some even hate – they have blind shots on several holes where you can't see where to hit the ball let alone where to walk. They are in "very un-manicured condition" with what we call short holes that seem too easy (they are not by any means) – and these courses don't make the top of the list for many. Unless you're an adventurer and appreciate why these courses are legendary in golf lore you usually skip them, not my group! We appreciate these places and the history, North Berwick (my favorite), Prestwick (where the first Open was played), The Machrie (which requires a crazy high speed boat ride to a far remote island to a course that you get lost on every other hole as you try to play it), and….. Lahinch!
Our second trip over we knew the land better and we scheduled Lahinch, staying at nearby Doonbeg as we would repeat the Southwest swing expanding it a little.
Doonbeg, now a Trump resort and course, is a spot with beautiful scenic views, and is a great place to park the group for a couple of days of exploration. The hotel is more like a villa or country estate owned by royalty but somewhat Americanized. I remember the beds as the best ones I have ever slept on! And this stuff matters when you adventure your way around old lands trust me, as more stories will include some very suspect sleeping quarters.
As we got on our tour bus for the short ride over to Lahinch, Marc and I looked at each other. "Did that temperature gauge say 6 degrees?" Wait, that's Celsius isn't it, do the math, oh it's around 42 degrees, thank God." "What, it is 42 degrees out! And we are playing golf? I hope everyone is prepared.
As I became more adept at the adventures planning I would put together advance sheets explaining to the guys "tips" to help make sure they are prepared and enjoy the adventures. You know, it rains a lot so bring lots of socks and extra golf shoes and rain gear etc. etc. Most guys bring a couple sweaters rain gear and other things but are never prepared for 42 degree weather. Marc and I would add to the tips after these experiences and adventures.
As we got off the bus at the first tee where the pro shop stood, 24 type A personalities felt the strong wind coming off the Atlantic Ocean making 42 feel like 10 and bee-lined it to the pro shop. In the next 20 minutes we bought every piece of merchandise in the shop. They never experienced anything like it before. Gloves, hats, sweaters (jumpers as they call them) bought them all. Ear muffs, you name it. And when all was gone and I insisted the pro sell me his jacket off his back, I think he finally kicked me out, with the jacket of course. You can tell the guys who made that AWG historic trek around Lahinch back home by the Lahinch wool beanies we all have. We bring them out in the winter on cold days. Most of the guys don't remember the golf course or the matches but they do remember that 20 minutes in the pro shop like it was yesterday.
And then we met our veteran caddies who carried our bags around that course regaling us with their stories in a brogue that mostly made you nod your head not knowing what you were agreeing to half the time. This is also some of the coolest stuff about these adventures, walking with caddies who point out historic things that have happened in the area, or the famous matches played there, or famous battles fought on their lands in days of old.
There is a camaraderie you develop with the caddies. They come in all shapes and sizes. For many of them the money they get is the most they can make in these areas and they take their jobs seriously. I have had guys in their 60s and 70s and kids as young as 10 or 12, smaller than the golf bags, women and girls, and all of them tough and weathered and reporting for duty. The old ones were the characters, many a little wobbly, and many smelling of a long night in the pub, but nevertheless able to do the job.
It's hilarious to watch the type A's scramble over top of each other to grab what they think are the most able bodied carriers in the short introduction period. It was always a strange scene and it reminded me of grade school and choosing teams. Who gets picked first and who gets left for last is uncomfortable. I always would swap out with someone who insisted their caddie was too old, or not even a golfer, and wouldn't know anything to help them, or someone's grandson just being brought into the family business. I always did ok but sometimes I didn't.
One time my caddie was very old and not very strong, and at some point he just couldn't make it up the hill with my bag which he had put on a pushcart to make the job easier. He and the cart went over and rolled back down the hill. I had to push the cart back up the hill myself as his grandson pushed him while carrying my golf partner's bag.
The old guy never missed a beat continuing to tell whimsical stories of the old days when he carried the bags of Ben Hogan or Arnold Palmer when they visited. I loved that old guy and tipped him and his grandson well.
Here in the states the caddies at famous golf resorts where walking is an option (we usually use golf carts here) are usually part of well-organized operations and very fit "loopers" as they are called. They are nice, and efficient, but they can't come close to the various characters in the UK with their storytelling and wisdom they impart always eager and sometimes hard to find.
We have had caddies literally pulled out of a pub at 7 am to come fill the caddie core when we arrive and find out they are shorthanded, our guys screaming "find me a caddie!" "Find me a caddie!" The pro shouts to the pub owner waking up the man sleeping on his stool "And tell Seamus to bring his two wee ones, we'll be needin' them as well!"
Lahinch in most postcards is identified by the remnants of the Castle which stands like a monument on one of the holes you play. When you get near it you wonder how this was ever big enough to be an actual castle, but it is still a daunting piece of architecture, the ruins are special and a site to see. A reminder of what these grounds are, that you are walking along. The sea is crackling in the distance with the little old charming village off to one side. The Cliffs of Moher right up the road.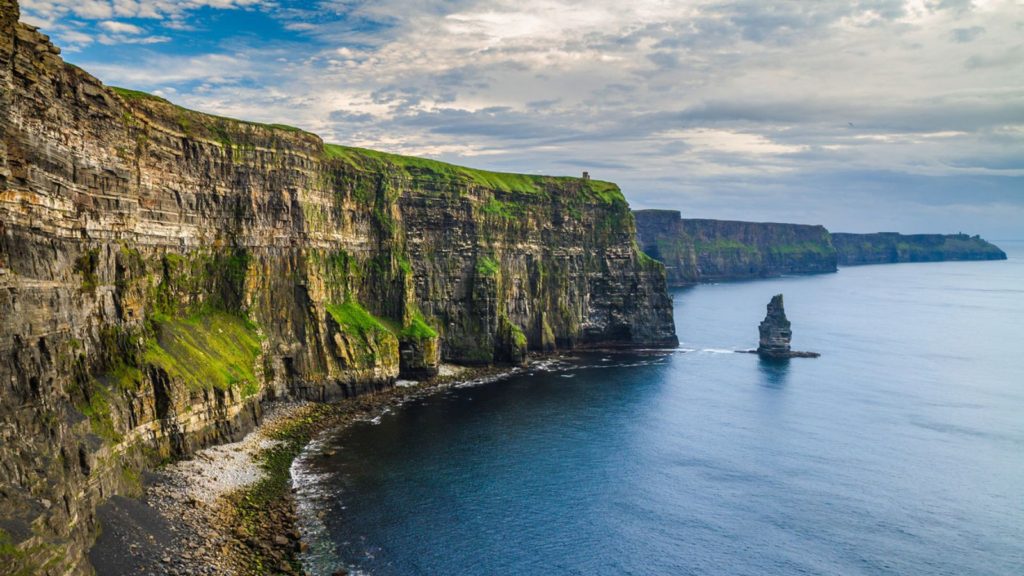 The sight of these things on TV as I watch make me go into the garage and check my golf club travel bag, rain gear and Lahinch warm weather gear just to make sure it's all there in case I need to hop a plane. My 8 handicap playing days seem like a distant memory now, but I never lose the desire to walk the great pieces of earth these majestic coastal links courses sit on. Every time I watch golf on TV, and they visit one of the Away We Golf destinations we have played, I am mesmerized. We call each other at these times, "Remember that time when…."?
In Ireland part of the experience, besides the gorgeous scenery and "hikes" is the travel between cities and hotels. We are like a rock band on tour – with all the crazy shenanigans on the bus, loud boisterous dinners in the restaurants, and late nights in the hotel bars, etc. etc. Tick-tock "where is Marc G we are waiting" tick- tock, "who brought sardines on the bus", the breakfast (part of the hotel package, pickled herring, salmon with everything, cold mushrooms, cold beans and eggs) The small rooms, creaky floors, little beds, no air, no pressure showers. You have to be flexible. The towns don't all have Ritz Carltons.
The thing about Ireland is, golfers are their favorite tourists. The people are welcoming and friendly to us tourists, and love to chat-us up in the pubs and restaurants. Sharing stories and pints and giving golf tips as well. So you have to spend time visiting the many, many pubs and restaurants or you are not doing it justice. Here's how I described to Marc my first impression of seeing the towns my first time there. You pull into the town and you see, petrol station, pub, post office, pub, pub, restaurant, pub, hotel, pub, pub. You get the idea. The people are so welcoming and fun, engaging you in conversation of your exploits that day.
You feel like you know them. Pretty soon you're drinking and singing and banging glasses together til the wee hours. This is part of the experience in the golf towns of Ireland.
Back at Lahinch…
As we started off on our cold, cold adventure down the fairways I remarked to my caddie as we rounded the turn towards the ocean "Paddy this is a beautiful place but the weather, man can it possibly get any worse?" "Aye sir tis a brilliant day and enjoy it cause it twill get worse" And then it started to rain! Yikes! "Play on lad, we d'nt stop for the rain here!" Fortunately while the rain is fierce, it comes quick and goes just as quick. Sometimes, this happens many times in a round.
True adventurers, us, we never let it stop us.
The course has what we call "blind shots", which means you can't really see exactly where your target is to hit your shot especially near the green. So you depend on your caddie to help you aim. On one particular hole there is a big mound or hill actually (a large one right on the path you have to hit the ball). There is a guy at the top of that hill, sort of there to tell you when the people ahead of you are gone so that you could hit your shot without hitting them. Also to help you aim to the target. He holds his arms up and makes the goal post sign and you instinctively try to hit your golf ball at his target (head?) but of course you want the ball to go much higher and longer than where he is standing. "O'er the hill laddie, right o'er the hill".
I imagined that in the morning when they gave out assignments to the workers it went something like this. .."you, yu'r a caddie today you, and you, yu'r a salesman in the shop, you are in the bag room to clean shoes and clubs now go awn. Now, we need a volunteer for "the Hill" please step forward!" No one steps forward. "You O'Leary, you bastard, it's yu'r turn! You are single, and have good reflexes, you, yu'r on the hill!" I wondered how many they've lost to this mission.
As my partner Marc hit the shot it looked great… for a moment – he never hit the ball high enough for this type of situation. As we stood there with our mouths agape not even able to yell "fore", there was this look of terror on the poor O'Leary's face that we could see all the way back to where we were standing. It was going right for the guy, "uh oh", "Go! Go! GO!" Oh no, how would they get
that poor guy to the hospital from there I thought? Would we ever be allowed into Ireland ever again? Should Marc give up golf? Luckily O'Leary must have been a soccer player, because he crouched down, moved to the left, moved to the right and somehow evaded the missile coming at him. He made it through another group of crazy Americans using him for target practice. He did have great reflexes that one.
Behind us in Bill's group the caddies were bantering with the players. Michael who liked to be addressed by his full name Michael not Mike, had spent most of the day correcting everyone "MikeUUUL!" He also grew more and more irritated with all the swishing of guys in wind and rain gear flapping as they tried to stand silently until he finally would hit a shot. "I heard that.. caddie, it's Mikecuuul.. and stop smoking so loudly." Finally he hit and the caddies farted. "Great shot Mike" says Bill. "UUUL!!" says Michuul.
The caddies were joking and he would get more and more pissed as the day went on. Prone to having altercations with caddies the round was uncomfortable for the rest of the group as they started making bets on which hole the caddie would finally clock Mike. Stopping his swing if the caddie whispered or scratched his nose or a bird chirped 5 holes away Bill could only hope the torture would end.
The plans to have one caddie drive them back to Doonbeg ahead of the other golfers – to get out of the cold as quickly as possible seemed like a good one. The aggrieved caddie was charged with making sure all their gear got on our bus. Bill was afraid when they left that the caddie would destroy all their gear. Bill went over to the caddie and implored "Seamus, I assure you I don't even know Mike and please don't hold it against me and my clubs." The caddie replied "don't worry Bill it's nought yu'r fault that yu'r friend is such a Wanker! And that was how we learned a new word, that back home we call "douchebag". We liked their version better. Our vocabulary was ever expanding with each trip!
So I reminisce as the flyovers on TV keep coming. Again, I feel so lucky to have been one of the organizers of such great adventures. Golf adventures, to faraway lands, meeting wonderful new people and discovering Guinness, my new drink for years. Did I mention that the Guinness plant is in Northern Ireland? That leads me to, "That time when we did the side- trip to Northern Ireland…. Stay tuned.
Here's to Ireland. On display this week on the Golf Channel, and also in a couple of weeks, as The Open (as the British Open is called) is contested in Northern Ireland at my favorite Ireland courses Royal Portrush.
Is that Harry Potter movie on in the other room, with the Cliffs of Moher filling the screen? "Alexa please find me an airline ticket to Ireland"…….
Share, Follow and Like this Page: