Thoughts for today 9.4.21
Random thoughts on a Saturday morning on life, death, golf, music, and family connections.
I lost a golf buddy last week, Raul Aparicio, and my family lost a niece Abby too, and music lovers lost a Rock Icon member of "the Greatest Rock and Roll band in the World," The Rolling Stones, as well. There are many other things that happen to grab our attention, spark insane division and debate, and cause us to laugh or cry separately or maybe together, but I was struck at the connection of these events in my world, my friends' world, and my family's world.
Charlie Watts had a long life and passed away in his eighties. It makes you wonder if we have taken the Rolling Stones for granted all these years. Decade after decade they are still The Stones. They are truly survivors (like many of us now) and have been known as the "greatest touring band of all time." It makes you laugh at the famous quote from Mick Jagger back in the 70's (in his 30's) at the height of their popularity when asked about the exhaustive grind of bringing live music to the masses. I paraphrase, "I'd rather be dead than singing "Satisfaction" when I'm 45." ("I hope I die before I get old," said the Who.) Well, they are still doing it in their 80's and still sell out shows in minutes. Losing Charlie Watts feels like we are getting to the end of the road on all our journeys, at least from my eyes. These guys were invincible, just look at Keith Richards' face and you wonder if that is really him or a wax museum figure. But no, it's him cranking out the chords and running, or should I say moving, around the stage. Music lovers, especially live music lovers, feel it when we lose one of our own, especially when it's not from the excess of the 60's gone way too soon like the 25 and 27 "club" as we call it, but simply we are all getting older and we are losing people. Memories flood back of the musical journey I have been on since I first heard the Stones. I see my life through pictures and the soundtrack guys like this have peppered it with, and I see and hear it all when I close my eyes on days like this. One of the best "music" movies back in the day was called Ladies and Gentlemen, the Rolling Stones. It captured the band perfectly at its pinnacle, in my opinion, and also captured that thing that music lovers, especially live music lovers/goers get that connection when all the stars align and musician and fan become one. I am particularly glad that as a blues lover lots of footage has come out showing the Stones seeking out their Blues heroes and not only meeting them, but playing with them, and introducing them and their music to their then worldwide audiences and helping to bring much needed exposure to these hidden American gems many of us were not familiar with at the time. Charlie Watts was the quiet one, but no less important. One of my first concerts to shoot as a concert photographer was the Rolling Stones back in the 70's and it was magical. Memories.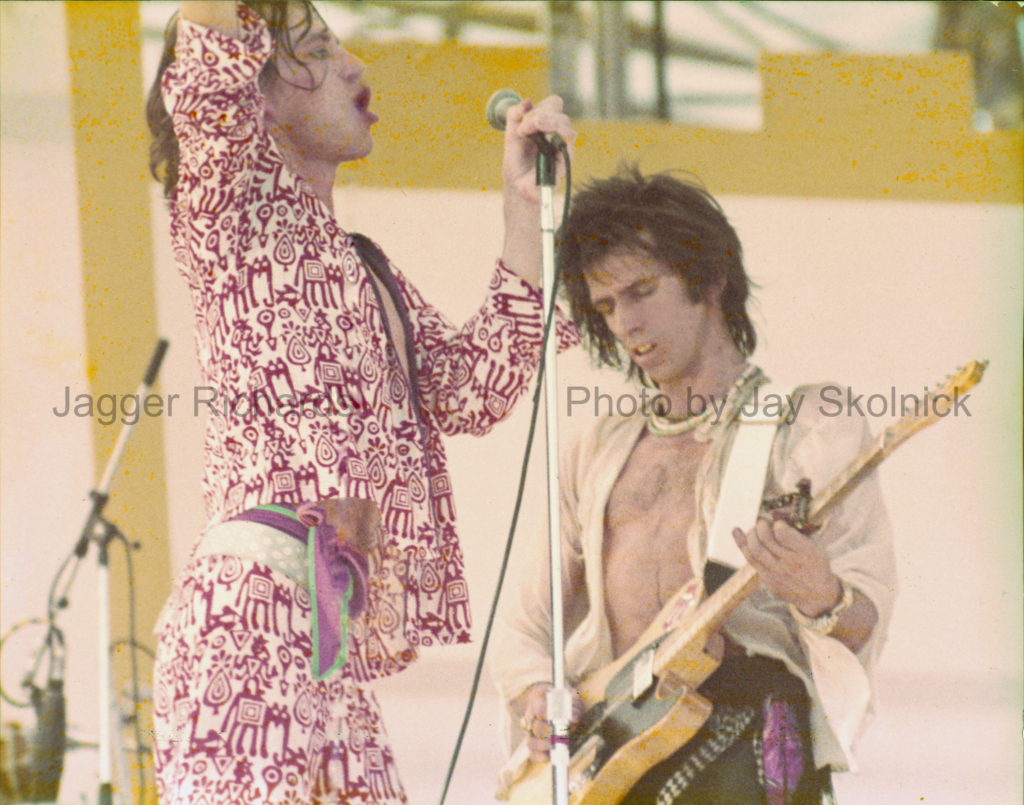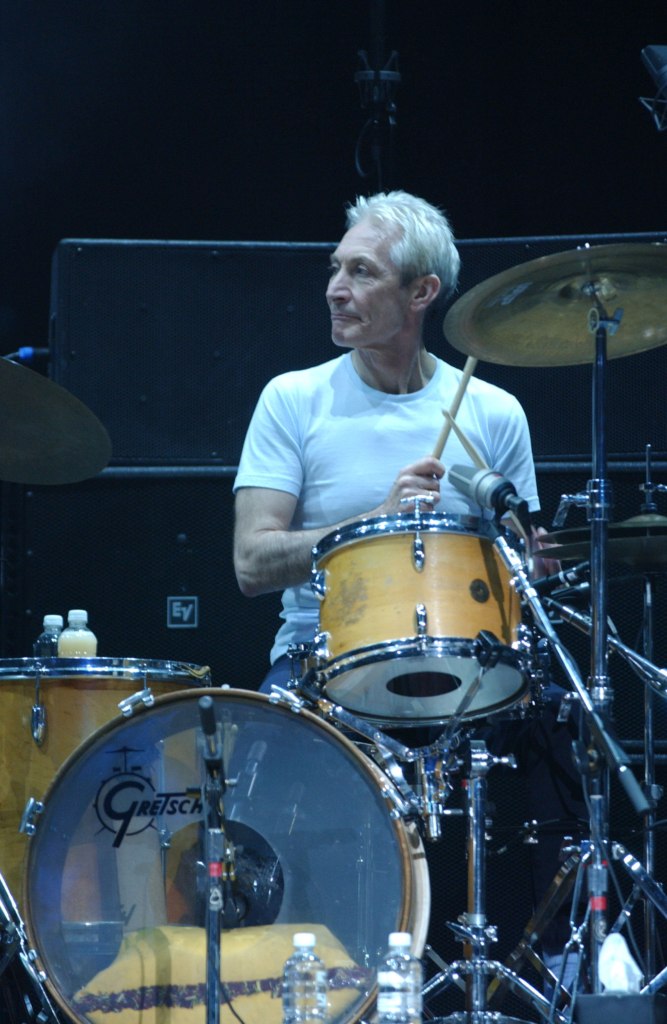 My niece, Abby, passed away last week as well. While I try to keep these deeply personal matters private, I have to say just a few things. I don't have much I can say that hasn't been said about losing a child, no matter how old that child was, they are still children to us parents and will always be. The news is heartbreaking and you wonder how you can get through it, especially her husband Scott, her sister Stacy, and her parents, and their special dog, Jeb. I see the pictures of her in my mind that she and her sister would post of Jeb and remember how striking his face and eyes would come through, so much so that I would have to comment right away. I would try to capture that same look on my Kali! And I remember pics of Abby now and see the same. It hurts the whole family, her many Aunts and Uncles, and cousins, deeply, and after all, in the end, family is all you have. Family is the strongest thing in the universe, in my opinion, and we all grieve together. And we will go on; we have to. I wonder how cancer is so indiscriminate. Some battle it and win, which so far I have done. And some fight the fight, but there is a different plan for them. Why do I get to win and not the younger person who has so much more life to enjoy? Why do I get to battle cancer at the same time my friend, Mark Telesca, fought his battle all the while calling and encouraging each other to be positive and keep going? Did it help? Who knows? And after his success, his wife Karene 4 years later, one of the sweetest people you will ever meet, is in the battle for her life. FUCK Cancer! Darla reminded me of a picture she always loved of her and a very young Abby imitating Dar's "strike a model pose" with that great smile. It is how I will remember her.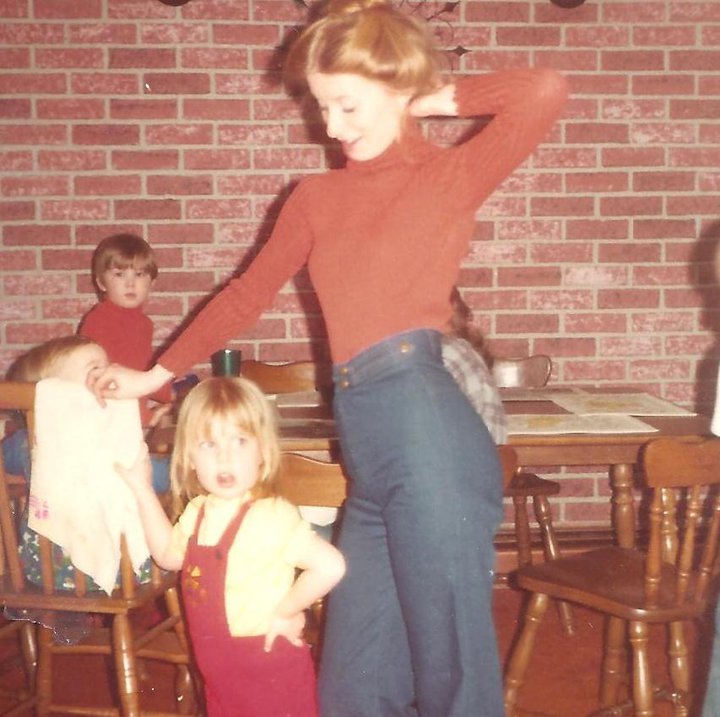 My golf buddy, Raul Aparicio, passed away last week. We were golf buddies, but indulge me on what that means. We did not go out to dinner with the wives, go on vacations together, go to football games, or hang. We were golf buddies; it's different. I am lucky enough to be part of a musical "family" that is similar. We are all music lovers but more specifically we are live music lovers. We go to concerts and we seek out live music events and have done so all our lives. You will find us at the Funky Biscuit or back in the day at The Fillmore East and I share that love and experience seeking out the show, the moment when all of it comes together, the musicians, the attendees, and the energy, and it all comes together for a moment where it is nirvana. And we live for it and seek it out constantly. Golf has that too; no wonder I was attracted to it. Golf buddies have that connection as well. We play golf together hoping that this is the day we shoot our best score, win the match, make a hole in one, or simply become one with the golf universe experiencing golf nirvana together with our "golf" buddies. But much like the music lovers and the "live" music family. Golf buddies can be more defined down to "golf trip" buddies. Golfers (regular golfers who play often) can enjoy years of all that camaraderie, exercise, and competition and satisfaction golf can give you, but at some time or another, you will most likely desire to "go play one of the great golf courses" or desire a golf "vacation". Much like the music, there are people who do it once in a while, but then there are the ones who seek it out and love to go off on golf trips with their "buddies". Like-minded golfers who travel to far-away places to play the game, sharing that experience only they can understand, seeking out the best in the world. The best destinations are written about in all the magazines or where history was made, the Home of golf, or where they have watched some of the most famous golf tournaments on TV, the majors, at places they too can play. I am one of those, and so was Raul.
WE are golf "trip" buddies, seldom seeing each other but for the twice a year we would travel the world seeking out this passion together with 10, 14, or as many as 34 more "buddies". We would play matches and share stories in the pubs afterward, travel in busses and seaplanes and boats to satisfy this craving. My friend, Marc Klein, and I recognized this in each other and we both had that other quality that all golf "trip" buddies need – the organizers. We quickly put together a group called Away We Golf, and became the orchestrators for an always-growing group of "nirvana" seeking golf rock stars. Well not really rock stars but like the live music lovers, we traveled all over. And Raul and his regular golf buddies joined us on our journeys. Marc and I experienced all our golf travel desires and brought our buddies to do the same. We played Pebble Beach, Bandon Dunes, Pinehurst, and all the great courses of America. But we took it to a new level when I first got bitten by the "let's go to Ireland" bug and insisted all my friends come with me. Since then we have made numerous trips "across the pond" and I can say I have driven every inch of The UK with Raul and all the other buddies sharing busses and hotels and dinners and drinks and stories and games and fights and debates and singing and laughing, and it was great. Those days have wound down now after 25 years of it and I still wonder if it can be as good, if like in the movies these 60 and 70-year-old grumpy old men get together and do it again. Raul's passing made it real again, the pleasure we all got from it, the joy of being part of the Away We Golf group that we all felt. When I wrote a piece for my friend Adam Doner's funeral a couple of years back his best friend read it to the family and friends attending, many of whom were golf buddies. I was struck by how the families and friends told of his love for being part of the traveling AWG'ers and that he would tell stories of the trips and when only 12 he started bringing his son Brandon to experience it as well. That's a strong connection and we all have it. It's a family.
Raul stood out, he was a big man, huge actually, but he was a gentle giant with a quick wit and smile. He loved the experiences we all loved and that bond will never be broken. We played the Old Course at St. Andrews and all the others in Scotland but the Home of Golf, St. Andrews, is the pinnacle and we experienced it together. After checking in at the Russacks Hotel (the famous hotel at St. Andrews on the 18th hole of the most famous golf course where it all started, The Old Course), we all went out to take a group picture that remains one of my favorites. Look at all the faces. You can see that thing, the nirvana anticipation, like when walking through the turnstiles at a Rolling Stones concert or the doors of the Funky Biscuit when Johnny Winter was playing. We are at the Old Course! Is this Heaven?
Raul went in to take a shower. The Hotel is the finest but is very old and the rooms tiny and the bathrooms even tinier. Raul called Marc to complain that the shower was too small, and that in order to take a shower he would have to have half his body in the shower and half out and then switch and that that was not going to work. He apparently was all soaped up and called the maid; they didn't have any other ideas for him. We all got the same picture in our minds that you may be getting! Well as I said, golf buddies are family and a volunteer came forward to switch rooms with Raul, with a big enough shower to accommodate him. We call it the Aparicio suite when we go back there!
When we were playing the putting course the next day a group of tourists started congregating around us pointing and giggling at Raul. The Japanese female tourists were tiny and he was so big they started taking pictures of him. Some Spanish tourists asked in broken English if he was a crazy American Wrestler so he hammed it up for them. They called him "El Grande Loco" and then so did we!
When you go to St. Andrew's and play the Old Course there is a famous bridge you walk over on your way to the 18th hole. The Swilcan Bridge. The caddies take your cameras or cell phones and take your picture on this bridge as your journey is ending. It's the only time in golf this delay is encouraged. This is the picture so many greats have taken and are iconic. Jack Nicklaus waving is maybe the most famous one, and all those before and after him do it. And all Golf "trip" Buddies from all over the world, including the Away We Golf group, take that picture too. We all have that picture hanging somewhere, but it is in its most important place and is as it should be, in our memories.
Adam Doner used to say, "Who cares how much this trip costs, we are building memories! In the end that is all you have my friend, your memories, so make lots of them!" Farewell El Grande Loco.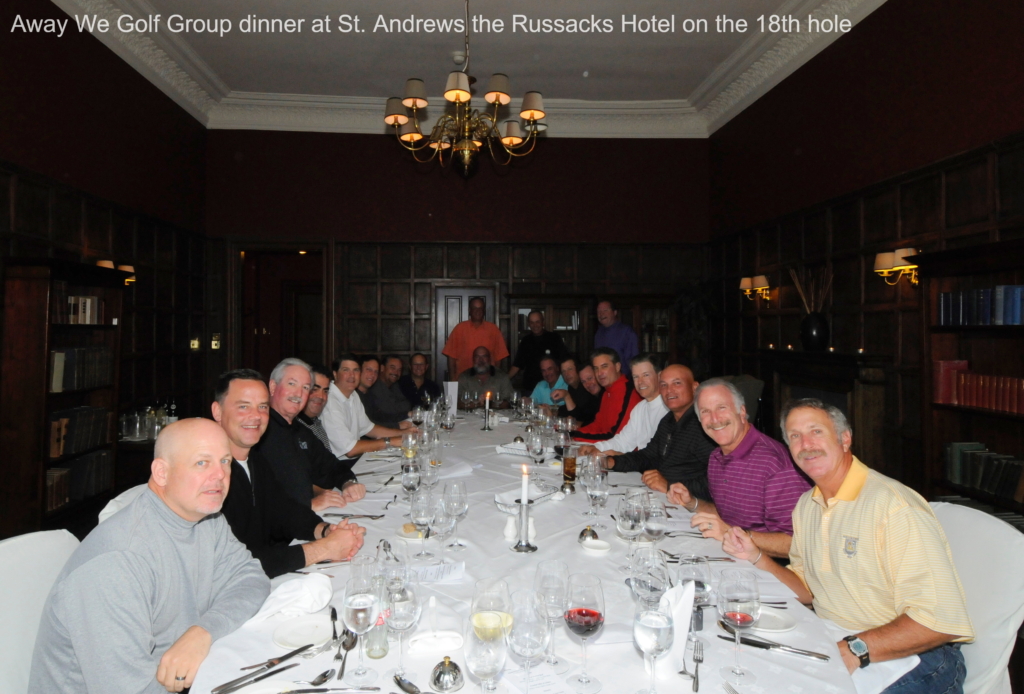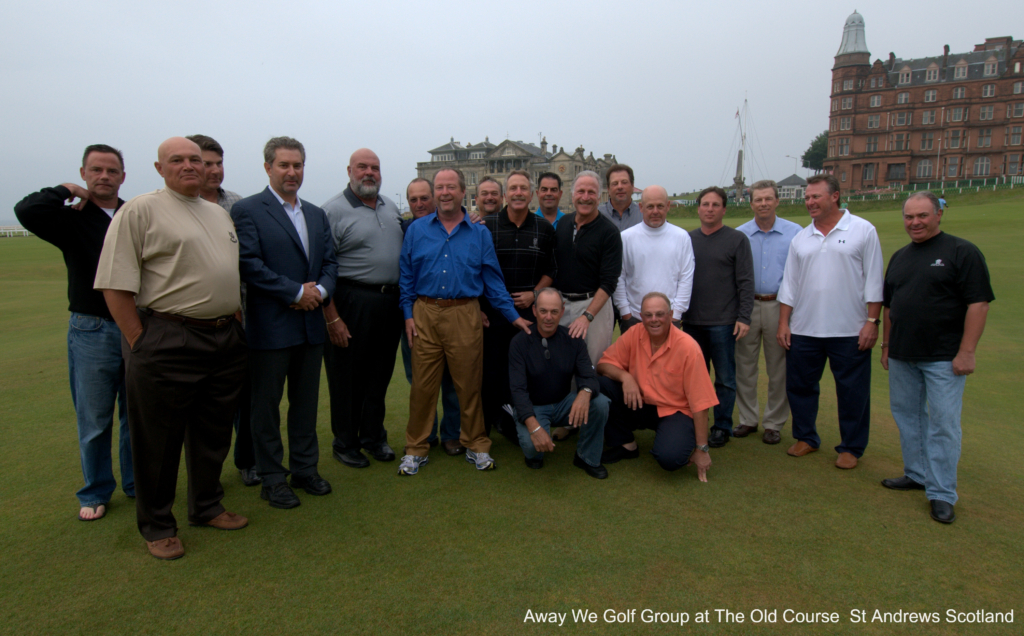 Share, Follow and Like this Page: